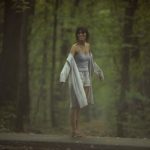 Best friends Marie and Alexia decide to spend a quiet weekend at Alexia's parents' secluded farmhouse. But on the night of their arrival, the girls' idyllic getaway turns into an endless night of horror.
On this week's episode…
Join the crew as we discuss New French Extremity, mental illness, and Alexandre Aja's, High Tension.
Show Notes:
Housekeeping (2:40)
What We've Been Watching (12:45)
Back of the Box/Recommendations (27:25)
Spoiler Warning/Full Review (31:20)
Rotten Tomatoes (76:20)
Trivia (80:16)
Cooter of the Week (83:16)
News (88:15)
Connect with us: