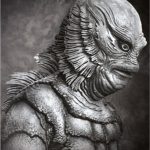 A strange prehistoric beast lurks in the depths of the Amazonian jungle. A group of scientists try to capture the animal and bring it back to civilization for study.
On this week's episode…
Join the crew as we discuss Jack Arnold, Julie Adams, and the Universal monster movie, Creature from the Black Lagoon.
Show Notes:
Housekeeping (4:25)
What We've Been Watching (10:48)
Back of the Box/Recommendations (27:14)
Spoiler Warning/Full Review (32:48)
Rotten Tomatoes (66:06)
Trivia (70:16)
Cooter of the Week (82:02)
News (88:44)
Hotline Scream (98:50)
Connect with us: