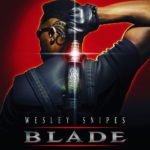 Blade:
A half-vampire, half-mortal man becomes a protector of the mortal race, while slaying evil vampires.
Blade 2:
Blade forms an uneasy alliance with the vampire council in order to combat the Reapers, who are feeding on vampires.
Blade Trinity:
Blade, now a wanted man by the FBI, must join forces with the Nightstalkers to face his most challenging enemy yet: Dracula.
On this week's episode…
Join the crew as we discuss Wesley Snipes, Guillermo Del Toro, and the blood soaked, action packed, Blade Trilogy. 
Show Notes:
Housekeeping (2:36)
Back of the Box/Recommendations (11:57)
Spoiler Warning/Full Review (17:28)
Rotten Tomatoes (59:00)
Trivia (62:13)
Back of the Box/Recommendations (67:38)
Spoiler Warning/Full Review (73:38)
Rotten Tomatoes (108:16)
Trivia (112:48)
Back of the Box/Recommendations (117:42)
Spoiler Warning/Full Review (121:07)
Rotten Tomatoes (141:40)
Trivia (145:32)
Cooter of the Week (150:10)
Hotline Scream (161:58)
Bob's Blu-Rays (170:10)
Connect with us: