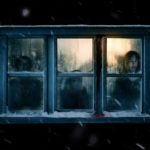 A soon-to-be stepmom is snowed in with her fiancé's two children at a remote holiday village. Just as relations begin to thaw between the trio, some strange and frightening events take place.
On this week's episode…
Join the crew as we discuss cults, isolation, and Hammer's latest horror film, The Lodge.
Show Notes:
Housekeeping (3:09)
Back of the Box/Recommendations (9:39)
Spoiler Warning/Full Review (15:05)
Rotten Tomatoes (72:55)
Trivia (78:12)
Cooter of the Week (81:11)
What We've Been Watching (86:39)
Hotline Scream (107:10)
Connect with us: