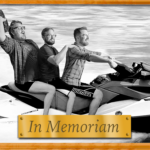 As you may have seen in headlines and on the news, the Straight Chilling Crew tragically perished in a jet-ski accident last week. Let us gather and reflect upon what a monumental loss this is for the horror podcast community.
On this week's episode…
Join Anthony from Something Ghoulish, Nichole from Light and Shadow, and John from Horrorphoria as they celebrate the lives and careers of the late Straight Chilling Crew.
Show Notes:
In Memoriam: (00:47)
Housekeeping: (25:10)
Overview of the last 100 shows/Trivia: (33:47)
Straight Stats: (48:53)
Regretted Scores: (59:40)
Who Said That!?: (71:47)
Listener Questions: (81:45)
Hotline Scream: (95:45)
Clip Reel: (112:30)
Shouts Outs: (120:32)
Connect with us: