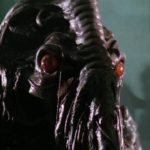 In a polluted future Venice, researchers work to improve the water quality. When the scientists start mysteriously dying, a team of soldiers are sent to investigate. Soon, they encounter strange murderous creatures.
On this week's episode…
Join the crew as we discuss Bruno Mattei, Italian horror, and the Alien/Terminator knockoff, Shocking Dark.
Show Notes:
Housekeeping (4:58)
Back of the Box/Recommendations (8:41)
Spoiler Warning/Full Review (16:48)
Rotten Tomatoes (67:28)
Cooter of the Week (72:37)
What We've Been Watching (79:09)
Hotline Scream (95:05)
Connect with us: