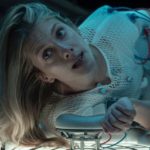 A woman wakes in a cryogenic chamber with no recollection of how she got there. As she's running out of oxygen, she must rebuild her memory to find a way out of her nightmare.
On this week's episode…
Join the crew as we discuss claustrophobia, science fiction-horror, and Alexandre Aja's latest Netflix movie, Oxygen.
Show Notes:
Housekeeping (2:48)
Back of the Box/Recommendations (7:55)
Spoiler Warning/Full Review (12:32)
Rotten Tomatoes (70:57)
Cooter of the Week (75:45)
What We've Been Watching (81:07)
Hotline Scream (97:30)
Connect with us: