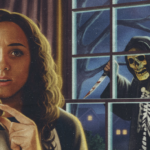 Part One: 1994
A circle of teenage friends, accidentally encounter the ancient evil responsible for a series of brutal murders that have plagued their town for over 300 years.
Part Two: 1978
Shadyside, 1978. School's out for summer and the activities at Camp Nightwing are about to begin. But when another Shadysider is possessed with the urge to kill, the fun in the sun becomes a gruesome fight for survival.
Part Three: 1666
The origins of Sarah Fier's curse are finally revealed as history comes full circle on a night that changes the lives of Shadysiders forever.
On this week's episode…
Join the crew as we discuss R.L. Stein, slashers, and Leigh Janiak's, Fear Street Trilogy: 1994, 1978, 1666.
Show Notes:
Housekeeping (3:17)
Back of the Box/Recommendations (9:22)
Spoiler Warning/Full Review (15:33)
Rotten Tomatoes (74:55)
Trivia (84:54)
Cooter of the Week (91:32)
Hotline Scream (98:07)
Connect with us: