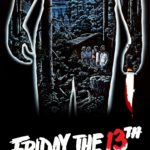 A group of camp counselors are stalked and murdered while trying to reopen Camp Crystal Lake. The same campsite where a boy drowned and two counselors were murdered several years earlier. Are the murders somehow connected? Is there a death curse? Find out, on Friday the 13th.
On this week's episode…
Join the crew as we discuss Kevin Bacon, Jason Voorhees and Sean S. Cunningham's classic slasher flick, Friday the 13th.
Show Notes:
Housekeeping (3:58)
Back of the Box/Recommendations (9:58)
Spoiler Warning/Full Review (15:17)
Rotten Tomatoes (91:09)
Trivia (97:36)
Cooter of the Week (111:49)
What We've Been Watching (119:17)
Hotline Scream (132:37)
Connect with us: