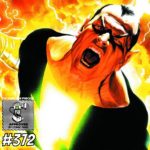 Zack Armour (of ComicVentures) joins us in gearing up for the upcoming Black Adam movie, with a dedicated spotlight on the character and his first solo comic series: Black Adam: The Dark Age, and we award Marvel's Werewolf by Night with the highest level of praise possible. Watch the video version of this podcast on YouTube!
TOPICS:
Black Adam Spotlight - 00:07:20
Movie Predictions and Expectations - 00:37:27
Top 3 Comics of November - 00:44:50
Mailbag Segment - 00:54:55
Werewolf by Night Review - 01:10:19
SUPPORT THE SHOW: 
Proudly sponsored by Gotham City Limit!
Support the show
GET IN TOUCH FOR MORE WEEKLY CONTENT! 🤝🏼