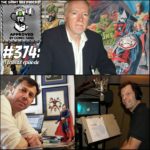 We dedicate this episode to the impactful careers and recent passing of comic legends: Kevin O' Neil and Carlos Pacheco, and the definitive voice of Batman: Kevin Conroy. May they all rest in peace.

Watch the video version of this episode on YouTube. 

TOPICS:
SUPPORT THE SHOW: 
Proudly sponsored by Gotham City Limit!
Support the show
GET IN TOUCH WITH US! 🤝🏼