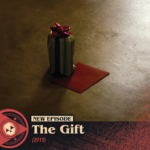 A married couple relocate to Los Angeles and run into an old classmate. The situation escalates when he continues to drop by unannounced and leave several mysterious gifts.
On this week's episode…
Join the crew as we high school bullies, Jason Bateman, and Rebecca Hall in the highly effective thriller, The Gift (2015).
Show Notes:
Housekeeping (3:38)
Back of the Box/Recommendations (13:13)
Spoiler Warning/Full Review (20:28)
Rotten Tomatoes (82:12)
Trivia (89:13)
Cooter of the Week (94:05)
Hotline Scream (101:16)
Connect with us: