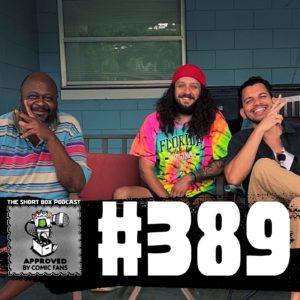 This episode marks ten years of Badr & Drew's annual visit to Walt! The boys hop on the mics for a casual convo about managing this pull lists and manga, and Walt finally shares the story of how he got into comics
TOPICS & TIMESTAMPS: 
Comic grail talk - 03:55
What's your ideal day of comic reading like? - 12:23
When is it time to trim/cut titles from your pull list? - 18:54
Comic books from our childhoods - 28:56
Walt's first exposure to comics - 36:19
Manga appreciation - 41:11
Spider-Man: Across The Spider-Verse predictions - 50:58
If one episode a week isn't enough for you, consider joining our Patreon Community for more content!  Click here to join the Short Box family and get access to bonus episodes and special rewards for as little as a $1. Your support is greatly appreciated 
BONUS LINKS: 
Take your comic shopping experience to the limit at Gotham City Limit!
Use the discount code "YOO" to save 10%  when you buy merch from our store
Proudly sponsored by Gotham City Limit!
Support the show
GET IN TOUCH WITH US! 🤝🏼