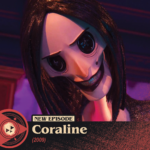 An adventurous 11 year-old girl finds another world that is a strangely idealized version of her own. Are her new found parents harboring sinister intentions? Tune in and find out!
On this week's episode…
Join the crew as we discuss stop motion animation, Neil Gaiman and Henry Selick's gateway horror film, Coraline (2009).
Show Notes:
Housekeeping (5:37)
Back of the Box/Recommendations (13:42)
Spoiler Warning/Full Review (18:55)
Rotten Tomatoes (73:56)
Trivia (83:55)
Cooter of the Week (90:30)
What We've Been Watching (96:30)
Connect with us: