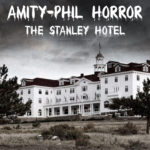 Welcome back to another haunting episode of The Amity-PHIL Horror! This week, @PhilTheFilipino dives into what may be the most haunted location in the entire country! The Stanley Hotel has a long history of haunts, & is famous for inspiring the one & only Stephen King! Check out what makes the Stanley Hotel a must-see for paranormal enthusiasts.

Looking for more from us? Subscribe to our YouTube channel to check out our livestream review of WW84 and for more video content in 2021!

🔻[*AFFILIATE LINKS BELOW*] - Depending on your streaming app, links may be distorted in text. If so, you can find this episode on our main site at waitforitpodcast.buzzsprout.com🔺

🔻Want to start podcasting? Use our referral link to Buzzsprout for a $20 Amazon Gift Card and to support our show: https://www.buzzsprout.com/?referrer_id=872095🔺

🔻Music provided by No Copyright Music:
https://www.youtube.com/c/royaltyfree...
Music used: Ghost by Tim Beek
timbeek.com
Licensed under Creative Commons Attribution 4.0
https://creativecommons.org/licenses/...🔺
Buzzsprout - Let's get your podcast launched!
Start for FREE
Disclaimer: This post contains affiliate links. If you make a purchase, I may receive a commission at no extra cost to you.