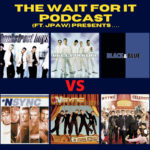 @MrEricAlmighty and @PhilTheFilipino replaced our scheduled episode of What Did I Miss this week to bring you a special guest episode, with one of our biggest Day 1 supporters - JPAW! We try to answer the age old question.....Backstreet Boys or *NSYNC? We deep dive into three rounds to determine a winner. The match-ups are:
Debut Album - Backstreet's Back vs *NSYNC (3:45)
Biggest Album - Millennium vs No Strings Attached (20:57)
End of an Era Album - Black & Blue vs Celebrity (40:26)
Make sure to stick around to the end of an episode where we throw in a bonus question...who has the best OVERALL album (58:40)? And if you enjoyed this content, consider going over to JPAW Comedy on Facebook to show her some support. You can also find her on most social media platforms @jpaw1002.

🔻[*AFFILIATE LINKS BELOW*] - Depending on your streaming app, links may be distorted in text. If so, you can find this episode on our main site at > waitforitpodcast.buzzsprout.com <🔺

🔻This episode was recorded on SquadCast - if you need somewhere to record, consider using our referral link: > https://squadcast.fm/?ref=waitforitpod <🔺

🔻Want to start podcasting? Use our referral link to Buzzsprout for a $20 Amazon Gift Card and to support our show: > https://www.buzzsprout.com/?referrer_id=872095 <🔺

🔻BACKGROUND MUSIC PROVIDED BY: Ocean by KV > https://soundcloud.com/kvmusicprod <  Free Download / Stream: > http://bit.ly/2OCvpHU < Music promoted by Audio Library > https://youtu.be/a8ctDtA7OK8 < — Creative Commons — Attribution 3.0 Unported  — CC BY 3.0 🔺 
Buzzsprout - Let's get your podcast launched!
Start for FREE
Disclaimer: This post contains affiliate links. If you make a purchase, I may receive a commission at no extra cost to you.