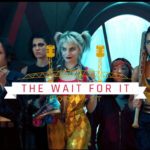 Welcome back to the Wait For It Podcast & your co-host @PhilTheFilipino is here with a review of the brand new DC film, Birds of Prey (And the Fantabulous Emancipation of One Harley Quinn)! This is the first comic book film of the year so of course, we've got you covered in terms of all the most up to date movie reviews.  
Check out Phil's spoiler free thoughts on the DC's latest team up film! 
Also, be sure to follow us on ALLLLLLL of our social media platforms below: Facebook: www.facebook.com/WaitForItPodcast Twitter: twitter.com/WaitForItPod Instagram: www.instagram.com/waitforitpodcast Anchor: bit.ly/WFI-Anchor Spotify: bit.ly/WFI-SP Apple Podcasts: bit.ly/WFI-IT 
BACKGROUND MUSIC PROVIDED BY: 
🔻
Music Credit: Chris Morrow 4 Track Name: "Hip Hop Rap Instrumental - Crying Over You"  
Music By: Chris Morrow 4 @ https://soundcloud.com/chris-morrow-3 
Include a link to the artists original content, HERE - https://soundcloud.com/chris-morrow-3... 
License for commercial use: Creative Commons Attribution 3.0 Unported (CC BY 3.0) https://creativecommons.org/licenses/... 
Music promoted by NCM https://goo.gl/fh3rEJ 
🔺
--- Send in a voice message: https://anchor.fm/waitforitpodcast/message