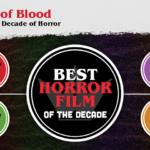 It's the end of a decade and the Straight Chilling Horror Podcast wants to recognize the past 10 years of horror greatness with our very own Bracket of Blood. We need your help in deciding the greatest horror film of the past decade so we have compiled a list of 112 films for you to vote on.
Starting December 2nd you will be able to vote on films in a head to head style competition that will ultimately end with one crowned winner as the greatest horror film of the decade. Round 1 will be separated into 4 different divisions and their voting times will be as follows:
      December 2 - December 6 — Killers Division
      December 9 - December 13 — Monsters Division
      December 16 - December 20 — Haunters Division
      December 23 - December 27 — Macabre Division
Voting will begin on Mondays at midnight and last until Fridays at 11:30 pm est. Each division consist of 28 different films that will be separated into 7 different polls. That means that each week every participant will be able to cast 7 votes, one for each poll, for the movies they think should move on to round 2.
You will be able to cast your vote every week right here on our website and you can join us on Facebook, Instagram, and Twitter to get weekly announcements regarding the bracket. We look forward to playing the Bracket of Blood with all of you and may the best film win!
Connect with us: