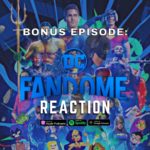 We were going to take this week off, but DC Fandome was too good an event not to record. And instead of trying to cover every announcement that came out of the event, we focused on our favorite and most anticipated projects and movies, and of course: Batman (00:13:54)

Support the show and buy some Short Box Merch!

HELPFUL LINKS:
Proudly sponsored by Gotham City Limit!
Support the show
(https://www.patreon.com/theshortbox)