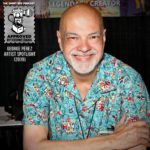 We're re-releasing this classic episode in honor of  the recent passing of George Pérez

Back in September 2019, The remarkable career of George Pérez was the subject for the 9th installment of our Artist Spotlight series (as selected by our Patrons). We explored his extensive career, recounted the many contributions he provided to comics, and shared personal stories from meeting the man himself.

TIMESTAMPS:
Artist Spotlight start (00:07:57)
George  Pérez career recap (00:24:43)
Champion Season entertainment picks: (01:15:48)
SUPPORT THE SHOW: 
Want to hear these episodes, and more, the second we post them? Subscribe to our Patreon! 
HELPFUL LINKS:
Proudly sponsored by Gotham City Limit!
Support the show