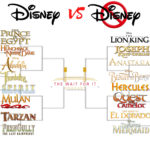 @MrEricAlmighty is back this Wait For Wednesday to set the world on fire with a special guest - his brother Stefan. While it was fun revisiting the original Disney bracket a few months back, that did get us thinking......could a non-Disney animated movie have better MUSIC than a top tier Disney movie? The results may shock you, so if you are easily triggered - you have been WARNED!

And if you like bracket style podcasts, consider checking out Jay and Eli over at Super Bracket Bros. 32 fighters enter from the universes of video games, anime, cartoons, TV, and movies.... with only one left standing at the end. They will serve as your personal "multiverse level" bracketologists, guiding you through every stomp, upset, and nail biting battle you can think of. We are huge fans of their show, and we think you will be as well!

🔻[*AFFILIATE LINKS BELOW*] - Depending on your streaming app, links may be distorted in text. If so, you can find this episode on our main site at > waitforitpodcast.buzzsprout.com <🔺

🔻This episode was recorded on SquadCast - if you need somewhere to record, consider using our referral link: > https://squadcast.fm/?ref=waitforitpod <🔺

🔻Want to start podcasting? Use our referral link to Buzzsprout for a $20 Amazon Gift Card and to support our show: > https://www.buzzsprout.com/?referrer_id=872095 <🔺

🔻BACKGROUND MUSIC PROVIDED BY: Ocean by KV > https://soundcloud.com/kvmusicprod <  Free Download / Stream: > http://bit.ly/2OCvpHU < Music promoted by Audio Library > https://youtu.be/a8ctDtA7OK8 < — Creative Commons — Attribution 3.0 Unported  — CC BY 3.0 🔺 
Buzzsprout - Let's get your podcast launched!
Start for FREE
Disclaimer: This post contains affiliate links. If you make a purchase, I may receive a commission at no extra cost to you.