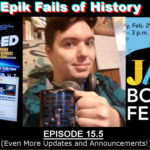 A quick podcast update from Erik Slader!
Event Debriefs: "Spaced Out" Comic Con at MOSH / Amelia Island's Book Fest
Updates / Edits to the podcast and blog (in progress)
RIP Katherine Johnson (1918-2020)
Upcoming Events:
Podcast Crossovers:
*Special shout outs to @MadeInSpace @BuzzSprout and @ProbablyWork !*
Follow @ErikSlader on Twitter and Instagram for more!