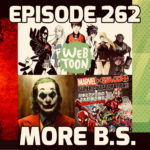 Badr, Ashley, Ed, and special co-host, Wade Austin Ellis, cover the latest Joker movie news & early reviews, the rise in popularity of Webtoons, Marvel's latest collaboration with Shonen Jump, and catch up on fan mail!

Timestamps:
Joker - 00:09:25
Cartoonist Kayfabe Appreciation - 00:16:44
Webtoon spotlight - 00:24:27
Marvel Shonen Jump - 00:41:37

Champions:
Want to support the show in exchange for bonus episodes and merch? Consider becoming a patron! 
Stay up-to-date on the latest Short Box episodes and happenings by following us on social media @theshortboxjax 



Support the show (https://www.patreon.com/theshortbox)