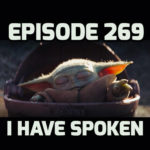 Our special guest Star Wars correspondent, Lars Lundquist, joins us to talk about the initial launch of Disney +, and a deep dive into the first two episodes of the Mandalorian and extended universe lore

Join us for our upcoming TedxFSCJ: Unmasked event on December 5th at the Museum of Science & History Planetarium.  You can register for FREE tickets using Eventbrite or Facebook. 
Want to support the show in exchange for bonus episodes and merch? Consider becoming a patron! 
Stay up-to-date on the latest Short Box episodes and happenings by following us on social media @theshortboxjax
Never miss an episode by subscribing on your favorite podcast app, just search THE SHORT BOX! Or visit Shortboxjax.com
Support the show (https://www.patreon.com/theshortbox)