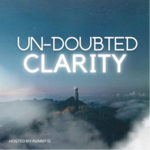 On this episode of Un-Doubted Clarity, I spoke with Penny Rose, founder of FeFiFoFum Accounting. Having Penny on the podcast was very important to me, we had formally met at Podfest and after many conversations, I knew she had to be on. I knew her story had to be shared, it inspired me and I know it will inspire others.
What stood out to me personally was her acknowledgement of the challenges and mindset she faced as a student. How even though she did have some low scores and experienced self-doubt, she didn't give up, she put in the work that was needed, trusted the process and it all paid off!
I genuinely meant everything I said when I told her how happy I was to hear her excitement about helping content creators and being a fan! Being that happy and making a career revolving around that is a gift and I challenge you like I'm challenging myself, to take the steps to discover what that is for yourself and to have the mindset and courage to capitalize
"I'm always looking at my direction so that I can make sure I achieve my destination"- Jim Rohn
You can learn more about Penny on LI https://www.linkedin.com/in/pennycrispellrose/ and follow her on IG https://instagram.com/fefifofumpersonalcfo?igshid=YmMyMTA2M2Y=
--- This episode is sponsored by · Anchor: The easiest way to make a podcast.
https://anchor.fm/app