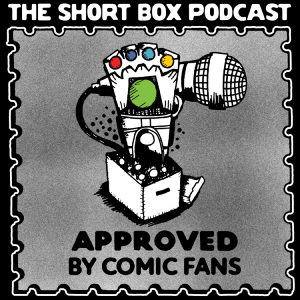 The full crew is back this week to talk about some recent comic news (see list below) and discuss the finale of The Falcon & The Winter Soldier. And it's been a minute since we took questions from the Short Box Nation, so we answered a few and shared a ton of worthwhile recommendations (comics & movies) this week!
TOPICS:
Alien property at Marvel (00:05:21)
DC's new horror line  (00:11:10)
FATWS Ep.6 Recap  (00:25:23)
Disney+ Sony deal  (00:58:18)
 NEW COMICS (01:08:54):
Listen to the extended version of this episode with 10+min of us discussing Shang Chi and the history of the character when you get access to our Patreon community.

Music by: Mecca Tha Marvelous
Podcast logo by: Ashley Lani Hoye, and other artwork by Edmund "Edbot5k" Dansart
Follow us on social media: The Short Box IG, Badr, & Cesar 
Proudly sponsored by Gotham City Limit!
Support the show
(https://www.patreon.com/theshortbox)