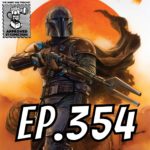 We're talking about a select handful of the latest comic news and headlines from this month, for another installment of our SBX News series 
TOPICS IN THIS EPISODE:
MERCH & PERKS: 
Want to support the show? Buy some merch from our store, and use the discount code "YOO" to save 10%. 
Want access to bonus content and video versions of this podcast? Subscribe to our Patreon! 
HELPFUL LINKS:
NEXT WEEK: Moon Knight spotlight!
Support the show
(https://www.patreon.com/theshortbox)