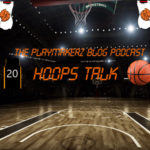 Now that the college basketball season is over, The Playmaker can get back to the NBA talks. The Western Conference looks great as 6 teams have 30 wins while 3 teams in the East have 30 wins. The Boston Celtics and Miami Heat are not living up to expectations. Brooklyn, Philadelphia, and Milwaukee are living up to expectations in the East. The West however, is more compelling and have better competition.
Recap of TNT's doubleheader last night: Los Angeles Lakers @ Miami Heat & Phoenix Suns @ Los Angeles Clippers
Games to look forward to this weekend.
--- Send in a voice message: https://anchor.fm/theplaymakerzblog/message