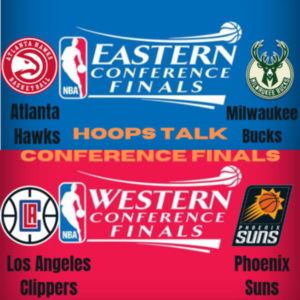 The Western Conference could be on the verge of ending tonight. The Phoenix Suns are one win away from the NBA Finals. Despite, the play of the Suns, it's the Clippers fault for the Suns to be where they are up 3-1 with Game 5 in Phoenix. Paul George struggles in the big moments has Chris Paul on the verge on a deserving trip.
The Eastern Conference Finals are showing the struggles of the Atlanta Hawks after dropping to straight games including Game 3 in Atlanta last night. Milwaukee could say this series should be 3-0, but they let the Hawks steal Game 1. A blowout in Game 2 to even the series and an early 15-point comeback last night has momentum with the Bucks. Trae Young needs help, but no one is joining the party.
Subscribe and follow the podcast on your favorite streaming platforms. Leave a rate & review on iTunes/Apple Podcast.
Follow The Playmakerz Blog on social media (Facebook, Twitter, and Instagram) & our Website for all our other podcasts.
Follow The Playmaker on social media (Facebook, Twitter, and Instagram)
--- Send in a voice message: https://podcasters.spotify.com/pod/show/theplaymakerzblog/message