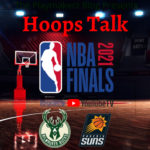 The NBA Finals are set to be tonight. 9pm EST exclusively on ABC.
The Milwaukee Bucks out of the East against the Phoenix Suns out of the West. The Bucks haven't been this far since 1974 (last time they won the championship). The Suns haven't to the Finals since 1993. Chris Paul finally in the Finals in 16 years. Giannis health is in question for Game 1.
Good matchups to look forward: CP3 vs. Jrue Holiday; Devin Booker vs. Khris Middleton, and more.
Subscribe and follow the podcast on your favorite streaming platforms. Leave a rate & review on iTunes/Apple Podcast.
Follow The Playmakerz Blog on social media (Facebook, Twitter, and Instagram) & our Website for all our other podcasts.
Follow The Playmaker on social media (Facebook, Twitter, and Instagram)
--- Send in a voice message: https://anchor.fm/theplaymakerzblog/message