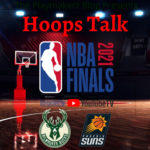 Game 1 of the NBA Finals went to the home team, Phoenix Suns. Chris Paul was great, Devin Booker was good, and Deandre Ayton dominated inside. Giannis played great in return from injury, but the others failed to step up despite Khris Middleton scoring 29 points which came mostly in the 2nd half. Adjustments is a must for Mike Budenholzer and the Milwaukee Bucks going into Game 2 tonight.
Subscribe and follow the podcast on your favorite streaming platforms. Leave a rate & review on iTunes/Apple Podcast.
Follow The Playmakerz Blog on social media (Facebook, Twitter, and Instagram) & our Website for all our other podcasts.
Follow The Playmaker on social media (Facebook, Twitter, and Instagram)
--- Send in a voice message: https://anchor.fm/theplaymakerzblog/message