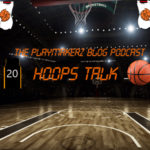 We have hit the knockout stage in Olympic Basketball. The Women will get started on Wednesday Morning as the ladies will face Australia in the Quarterfinals 12:40AM EST. The men's team played their Quarterfinals matchup earlier this morning against World rival Spain. A strong 2nd Half led by Kevin Durant pushed Team USA into the Semifinals on Thursday.
The NBA Free Agency began yesterday and a lot of moves was made especially out West. The Lakers signed four former players to their roster after acquiring Russell Westbrook last week in a trade. Chris Paul re-signed with the Phoenix Suns for the max. Trae Young gets the max extension from the Hawks and NBA Free Agency to discuss on this episode of Hoops Talk.
Subscribe and follow the podcast on your favorite streaming platforms. Leave a rate & review on iTunes/Apple Podcast.
Follow The Playmakerz Blog on social media (Facebook, Twitter, and Instagram) & our Website for all our other podcasts.
Follow The Playmaker on social media (Facebook, Twitter, and Instagram)
--- Send in a voice message: https://anchor.fm/theplaymakerzblog/message