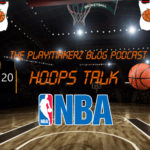 A week and half into the 75th Anniversary Season of the NBA. The LA teams are struggling early including losing a 26-point lead to a winless team. Chicago, Charlotte, Washington, and New York has off to great starts to the season in the East while Boston and Brooklyn looking to right the ship early.
Great weekend slate of basketball this Halloween weekend.
Subscribe and follow the podcast on your favorite streaming platforms. Leave a rate & review on iTunes/Apple Podcast.
Follow The Playmakerz Blog on social media (Facebook, Twitter, and Instagram) & our Website for all our other podcasts.
Follow The Playmaker on social media (Facebook, Twitter, and Instagram)
--- Send in a voice message: https://anchor.fm/theplaymakerzblog/message