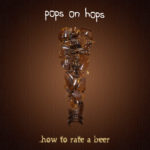 Barry and Abigail discuss How to Save a Life by The Fray and sample Mel's Gold Ale, 32958 Hazy IPA, Dubbeldolia, Slow Paddle Porter, and Voluntold Oatmeal Stout from Pareidolia Brewing Co. in Sebastian, Florida.
Special thanks to Pete Anderson, Co-Owner and Head Brewer of Pareidolia Brewing Co., for sitting down with us to discuss the history of the brewery!
Mel's Gold Ale is named for Mel Fisher, a world-famous American treasure-hunter. Mel Fisher's Treasure Museum is located just up the street from Pareidolia in Sebastian.
Sales of Knee Deep in Peaches Smash Beer raised money for StacheStrong, an organization that supports brain cancer research. Knee Deep in Peaches was also a collaboration with Waycross, Georgia, band The Pine Box Dwellers. The band designed the beer's logo and can art.
When Barry was recently in Asheville, North Carolina, he visited White Labs Brewing Co., who are known for brewing beers of nearly identical recipes, only altering the yeast, to produce noticeable differences in flavor and aroma.
How to Save a Life was once certified as the best-selling digital album of all time at the time, beating the record previously held by Coldplay's X&Y.
Abigail saw The Fray live at The Greek Theatre in Los Angeles, California, in July 2007.
Slow Paddle Porter was modeled after Deschutes Brewery's Black Butte Porter.
Up next… Conscious Party by Ziggy Marley and The Melody Makers
Jingles are by our friend Pete Coe.
Follow Barry or Abigail on Untappd to see what we're drinking when we're not on mic!
Facebook | Instagram | Twitter | YouTube | Website | Email us | Virtual Jukebox
--- Send in a voice message: https://anchor.fm/pops-on-hops-podcast/message