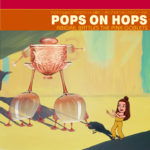 Barry, Abigail, and special guest Paul Zawacki [The Procession, previously interviewed on A Dozen Updates (The Procession Reunion Special)] discuss Paul's Jukebox submission, Yoshimi Battles the Pink Robots by The Flaming Lips.
Read about the Yoshimi musical written by Aaron Sorkin, or watch the trailer.
Radiolab has an episode about Elisabeth Kübler-Ross, who introduced the five stages of grief model.
Do You Realize?? was at one time the state rock song of Oklahoma. Read about why it is no longer.
Yoshimi P-We is a Japanese musician, best known as the drummer of Boredoms, who inspired this album. Her screams appear on Yoshimi Battles the Pink Robots, Pt. 2.
Barry was recently named to the Southeast Area Board of the American Cancer Society. He will be heading to Washington in September to talk to legislators about the Cancer Moonshot and attending the 12th Annual Lights of Hope event on the National Mall. Learn more about how you can honor someone in your life that has been touched by cancer during that event!
Up next… Smoke and Mirrors by Imagine Dragons
Our next Jukebox episode will be Make Yourself by Incubus, submitted by Barry's brother and Abigail's uncle, Derek Hummel, Sr. This episode is scheduled to drop on October 14, 2022.
Jingles are by our friend Pete Coe.
Follow Barry or Abigail on Untappd to see what we're drinking when we're not on mic!
Facebook | Instagram | Twitter | YouTube | Website | Email us | Virtual Jukebox
--- Send in a voice message: https://anchor.fm/pops-on-hops-podcast/message