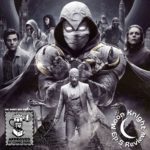 Badr & Drew say farewell to their pals, Marc, Steven...and Jake?! And discuss what happened in the season finale, and contemplate on what two MCU cameos were possibly cut from this episode.  Watch the full unedited video version of this podcast on our YouTube!

SUPPORT THE SHOW: 
Want to hear these episodes, and more, the second we post them? Subscribe to our Patreon! 
HELPFUL LINKS:
Listen to this week's other episode about Doctor Strange!
Proudly sponsored by Gotham City Limit!
Support the show