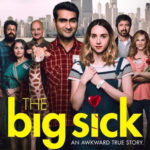 PhilTheFilipino is back with his series titled, "Netflix & Phil"! For these episodes, Phil recommends different shows that you'll find on streaming sites like Netflix, Hulu, Amazon Prime, etc. This month he talks about the 2017 Romantic-Comedy, "The Big Sick", starring Kumail Nanjiani, Zoe Kazan, Ray Romano, & Holly Hunter! Even though the movie is a few years old, it still doesn't feel like it's talked about enough. So Phil is going to let you know why it's more than worth your time!

Phil also takes a few minutes to discuss the passing of stand-up comedian, Erik Myers.

"Kumail is a Pakistani comic, who meets an American graduate student named Emily at one of his stand-up shows. As their relationship blossoms, he soon becomes worried about what his traditional Muslim parents will think of her. When Emily suddenly comes down with an illness that leaves her in a coma, Kumail finds himself developing a bond with her deeply concerned mother and father."

🔻[*AFFILIATE LINKS BELOW*] - Depending on your streaming app, links may be distorted in text. If so, you can find this episode on our main site at waitforitpodcast.buzzsprout.com🔺

🔻Want to start podcasting? Use our referral link to Buzzsprout for a $20 Amazon Gift Card and to support our show: https://www.buzzsprout.com/?referrer_id=872095🔺

🔻BACKGROUND MUSIC PROVIDED BY: Music Credit: Chris Morrow 4 Track Name: "Hip Hop Rap Instrumental - Crying Over You"  - Music By: Chris Morrow 4 @ https://soundcloud.com/Chris-morrow-3 
Include a link to the artists original content, HERE - https://soundcloud.com/chris-morrow-3... License for commercial use: Creative Commons Attribution 3.0 Unported (CC BY 3.0) https://creativecommons.org/licenses/... Music promoted by NCM https://goo.gl/fh3rEJ🔺
Buzzsprout - Let's get your podcast launched!
Start for FREE
Disclaimer: This post contains affiliate links. If you make a purchase, I may receive a commission at no extra cost to you.