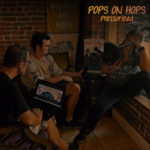 Barry, Abigail, and third-time guest Zachary Hummel, brother to Abigail and son to Barry, discuss Under Pressure by Logic and sample Burton's Best, Seaside Sour, Windtalker, Baltic Porter, and Brew Club 9th Anniversary Ale from Community Brewhouse in Sanford, Florida.
Many thanks to Gary Holmes and Aaron Libera, Co-Owners of Community Brewhouse, for sitting down with us to discuss the fascinating story behind Community Brewhouse and the Sanford Homebrew Shop.
Zach has seen Logic twice, once on the Bobby Tarantino vs. Everybody Tour in Tampa (setlist), and once on the Confessions of a Dangerous Mind tour in Orlando (setlist).
Zach noted that Under Pressure contains a sample from Eazy-Duz-It by Eazy-E.
These lyrics deserve your attention. We got a lot of the information shared on this episode from the Genius annotations for each song.
Read about Barry's friend Bob Becker, who at the age of 74 broke the course record during the 2019 Race for the Ages ultra-running event in Tennessee using non-alcoholic O'Doul's as part of his hydration strategy!
Follow Def Poppa Gaming, Zach's YouTube channel.
Up next… Shake Your Money Maker by The Black Crowes
Jingles are by our friend Pete Coe.
Follow Barry or Abigail on Untappd to see what we're drinking when we're not on mic!
Facebook | Instagram | Twitter | YouTube | Website | Email us | Virtual Jukebox
--- Send in a voice message: https://anchor.fm/pops-on-hops-podcast/message