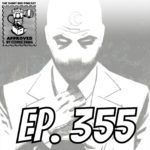 The 2014 Moon Knight comic series (by Warren Ellis and Declan Shalvey), responsible for introducing Moon Knight's "Mr. Knight" persona, gets the spotlight treatment this week, just in time for the new Disney+ series!

ALSO IN THIS EPISODE:
Moon Knight vs Batman comparisons (00:28:45)
Live-action predictions (00:37:30)
Fistful of Comics (00:47:09)
Digital vs physical comics (01:03:48)
DC Shadow War Alpha #1 giveaway (01:13:16)
Entertainment picks for the week (01:15:12)
MERCH & PERKS: 
Want to support the show? Buy some merch from our store, and use the discount code "YOO" to save 10%. 
Want access to bonus content and video versions of this podcast? Subscribe to our Patreon! 
HELPFUL LINKS:
NEXT WEEK: Moon Knight Ep.1 review!


Proudly sponsored by Gotham City Limit!
Support the show