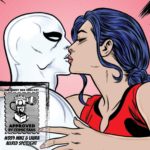 The successful career and captivating art style of the married comic couple: Mike & Laura Allred, get our full attention for the 17th installment of our Artist Spotlight series. The couple have been working together as one of the comic industry's most recognizable and prolific art duos for the last 30+ yrs, so we had plenty to talk about 
TIMESTAMPS:
An introduction to the Allreds (00:08:02)
Mike & Laura meeting Adam West, and other stories (00:25:46)
Comic picks for June (00:45:58)
Worst comic convention memories (00:57:02)
General entertainment picks & recommendations (01:08:23)
SUPPORT THE SHOW: 
Want to hear these episodes the second we post them, and bonus content? Subscribe to our Patreon! 
HELPFUL LINKS:
Proudly sponsored by Gotham City Limit!
Proudly sponsored by Gotham City Limit!
Support the show