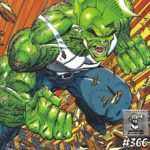 To celebrate 30 yrs of Image Comics, our Patrons voted on Chicago PD's finest (and greenest) for us to deep dive. We're reviewing the first few issues of Erik Larsen's Savage Dragon series and talking about the founding fathers of Image. Watch the video version of this episode on YouTube
TOPICS: 
30 yrs of Image Comics - 00:13:24
Savage Dragon comic review - 00:25:26
Dream casting for a Savage Dragon movie - 00:50:28
Ben's Top 3 comic picks - 00:58:56
Mail-bag topics (Netflix's Sandman, WhatNot) - 01:08:28
Comic giveaway: Dark Crisis Green Lantern #1 - 01:22:10
Champions of the week - 01:23:52
SUPPORT THE SHOW: 
RELATED LINKS:
Proudly sponsored by Gotham City Limit!
Support the show