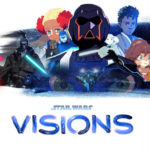 @MrEricAlmighty is going solo with a review of something he has been patiently waiting for over the past few years.....A STAR WARS ANIME!!! Star Wars: Visions was released at the end of last month on Disney+, and with all 9 episodes available to stream, is it worth your time to check it out if you aren't a fan of both Star Wars and Anime? Well....this review was made specifically with you in mind!

Synopsis: Presenting all-new, creative takes on the galaxy far, far away, Star Wars: Visions is a series of animated short films celebrating Star Wars through the lens of the world's best anime creators. The anthology collection will bring fantastic visions from several of the leading Japanese anime studios, offering a fresh and diverse cultural perspective to Star Wars.

🔻[*AFFILIATE LINK BELOW*] - Depending on your streaming app, links may be distorted in text. If so, you can find this episode on our main site at > waitforitpodcast.buzzsprout.com <🔺

🔻BACKGROUND MUSIC PROVIDED BY:
Amelia by Amine Maxwell > https://soundcloud.com/aminemaxwell <
Creative Commons — Attribution 3.0 Unported — CC BY 3.0
Free Download / Stream: > https://bit.ly/amine-maxwell-amelia <
Music promoted by Audio Library > https://youtu.be/wqNpI4vNuyk <🔺
Riverside - Record from anywhere!
60 minutes free, no credit card required.
Disclaimer: This post contains affiliate links. If you make a purchase, I may receive a commission at no extra cost to you.