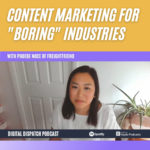 We've been talking A LOT about getting back to basics. 
Talking to customers. Audience research. How to differentiate yourself from the competition. 
So it's always really nice to talk to someone who just gets it--such as today's guest Phoebe Noce who's the director of marketing over at FreightFriend. 

Check out these shows next: 
-----------------------------------------------

THANK YOU TO OUR SPONSORS!

At SPI Logistics they have industry-leading technology, systems, and back-office support to help you succeed. Learn more about SPI's freight agent program here. Make sure to let them know we sent you!
-----------------------------------------------

ABOUT THE PODCAST:

Everything is Logistics is a podcast for the thinkers in freight. Subscribe to our newsletter to never miss an episode.

Follow EIL host Blythe Brumleve on social: Twitter | LinkedIn| Instagram| TikTok| YouTube