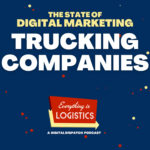 There are plenty of logistics data points that industry folks love to analyze but why are there so few data points when it comes to freight marketing? Well, in today's show we're changing that with a first look into how 20 of the top carriers in freight treat their website and digital marketing efforts–and how your company can replicate these same tactics.
Everything is Logistics is hosted by Blythe Brumleve, founder of Digital Dispatch where we help freight companies get online and grow. Check out our top shows to fix your website and fix your marketing. Alternatively, you can search by topic and check out all our past episodes of the podcast—right on our website.
-----------------------------------------------

THANK YOU TO OUR SPONSORS!

At SPI Logistics they have industry-leading technology, systems, and back-office support to help you succeed. Learn more about SPI's freight agent program here. Make sure to let them know we sent you!
-----------------------------------------------

ABOUT THE PODCAST:

Everything is Logistics is a podcast for the thinkers in freight. Subscribe to our newsletter to never miss an episode.

Follow EIL host Blythe Brumleve on social: Twitter | LinkedIn| Instagram| TikTok| YouTube