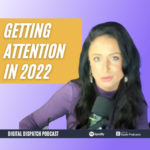 It's a common phrase in sales to say "the riches are in the niches."
But what if I told you that the same can be said about marketing?
In this episode, I'm going to break down some recent studies that can help you not only reach your target audience on the platforms they're already hanging out--but also how to use their own verbiage to earn their trust and keep their attention in 2022 and beyond. 
-----------------------------------------------

THANK YOU TO OUR SPONSORS!

At SPI Logistics they have industry-leading technology, systems, and back-office support to help you succeed. Learn more about SPI's freight agent program here. Make sure to let them know we sent you!
-----------------------------------------------

ABOUT THE PODCAST:

Everything is Logistics is a podcast for the thinkers in freight. Subscribe to our newsletter to never miss an episode.

Follow EIL host Blythe Brumleve on social: Twitter | LinkedIn| Instagram| TikTok| YouTube