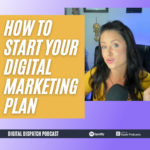 The question I was asked the most while on the road was, "How do I start?" 
This question was asked mostly by folks who know marketing is important but don't have a dedicated employee to handle the tasks. 
And if they try to tackle it, it's usually the thing that's put on the back burner first. 
Couple this with marketing agencies as a whole struggling with hiring as folks try to avoid agency burnout by going in-house.
So if you're too busy to handle it yourself and marketing agencies as a business structure are struggling to retain talent, how do you start?
That's what we're covering in today's episode. 


-----------------------------------------------

THANK YOU TO OUR SPONSORS!

At SPI Logistics they have industry-leading technology, systems, and back-office support to help you succeed. Learn more about SPI's freight agent program here. Make sure to let them know we sent you!
-----------------------------------------------

ABOUT THE PODCAST:

Everything is Logistics is a podcast for the thinkers in freight. Subscribe to our newsletter to never miss an episode.

Follow EIL host Blythe Brumleve on social: Twitter | LinkedIn| Instagram| TikTok| YouTube