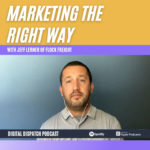 On a previous episode, I talked about how you fix that shady email list.
Well on this episode we're getting some extra insight from Flock Freight's VP of marketing Jeff Lerner on how he would tackle that same problem. 
We're not only diving into how Jeff would handle an email list from questionable sources but also things like helping the sales and marketing department become more aligned, how Flock Freight is prioritizing people and the planet PLUS a good debate on if pineapple belongs on pizza. 
Check out these shows next: 
-----------------------------------------------

THANK YOU TO OUR SPONSORS!

At SPI Logistics they have industry-leading technology, systems, and back-office support to help you succeed. Learn more about SPI's freight agent program here. Make sure to let them know we sent you!
-----------------------------------------------

ABOUT THE PODCAST:

Everything is Logistics is a podcast for the thinkers in freight. Subscribe to our newsletter to never miss an episode.

Follow EIL host Blythe Brumleve on social: Twitter | LinkedIn| Instagram| TikTok| YouTube