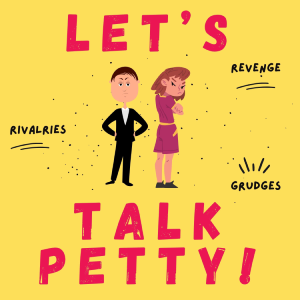 This weeks mini episode was suggested to us by one of our favorite listeners Chandi. She is the co-host of the Bound By The Cloak podcast. You can follow her specifically on Twitter @boundbythecloak and you can checkout their podcast at https://boundbythecloak.com/ . Thanks so much Chandi!!
This was a thread from the AskReddit subreddit about work drama. Andrew sifted through the thread and found some of the pettier ones. We don't just cover one like most mini episodes. The first one is about a boss who likes to shut off the lights while this person goes to the bathroom. Second, petty revenge on a laminated note writer. Third, was it a mental health day or Covid? And finally ... lets not ruin it. Lets just say POOP MONEY!
If you have a petty story and would like us to discuss it, please be sure and send it in anywhere below (email preferred). Also, we'd love it if you'd subscribe and give us a review. It helps us a ton!
Support The Show: Buy Us a Coffee
Lets Talk Petty! Teepublic Store: Buy Our Merch
World Wide Web: www.letstalkpetty.com
Twitter: pettytalkpod
Instagram: letstalkpettypod
Facebook: facebook.com/letstalkpettypod
Email: [email protected]
---
Hosted on Acast. See acast.com/privacy for more information.