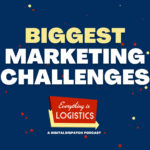 Marketing and sales in freight are having a challenging time. Not only are we facing a recession and coming to grips with new B2B buying methods but these our roles are becoming more demanding with a limited budget. 
How are freight companies managing these challenges? That's why we have Sol de Naples founder Jill Schmieg on the show to break down how her clients are combatting the challenges every small marketing team is currently facing. From hiring to responsibility, Jill breaks down the things you need to keep on your radar to stay ahead of the game. 
Everything is Logistics is hosted by Blythe Brumleve, founder of Digital Dispatch where we help freight companies get online and grow. Check out our top shows to fix your website and fix your marketing. Alternatively, you can search by topic and check out all our past episodes of the podcast—right on our website.
-----------------------------------------------

THANK YOU TO OUR SPONSORS!

At SPI Logistics they have industry-leading technology, systems, and back-office support to help you succeed. Learn more about SPI's freight agent program here. Make sure to let them know we sent you!
-----------------------------------------------

ABOUT THE PODCAST:

Everything is Logistics is a podcast for the thinkers in freight. Subscribe to our newsletter to never miss an episode.

Follow EIL host Blythe Brumleve on social: Twitter | LinkedIn| Instagram| TikTok| YouTube