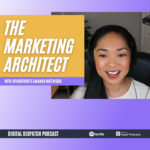 The role of marketing within business continues to evolve and as we evolve, we need more and more expertise from the folks who have seen the process from all different angles.  

That's why we have Sparktoro's Amanda Natividad joining the show to talk about her role as the company's Marketing Architect to take the experience she's learned throughout her career and apply it to a new company. 

Amanda is one of my favorite people to follow for her marketing perspective and in this episode, she's sharing tips on modern social media marketing, what B2B can learn from B2C, proving ROI, and so much more. 



~~~~~~~~~~~~~~~~~~~~~~~~~~~
Where to Find Digital Dispatch & Blythe:  

Got something to say?
Have a topic you'd like to see covered? Or a guest you want to hear on the show? Fill out the tip submission form on the Digital Dispatch website.
-----------------------------------------------

THANK YOU TO OUR SPONSORS!

At SPI Logistics they have industry-leading technology, systems, and back-office support to help you succeed. Learn more about SPI's freight agent program here. Make sure to let them know we sent you!
-----------------------------------------------

ABOUT THE PODCAST:

Everything is Logistics is a podcast for the thinkers in freight. Subscribe to our newsletter to never miss an episode.

Follow EIL host Blythe Brumleve on social: Twitter | LinkedIn| Instagram| TikTok| YouTube